Canva Alternative:
Why go with hipCV?
Don't have hours to waste in Canva? Use a resume builder that only takes minutes.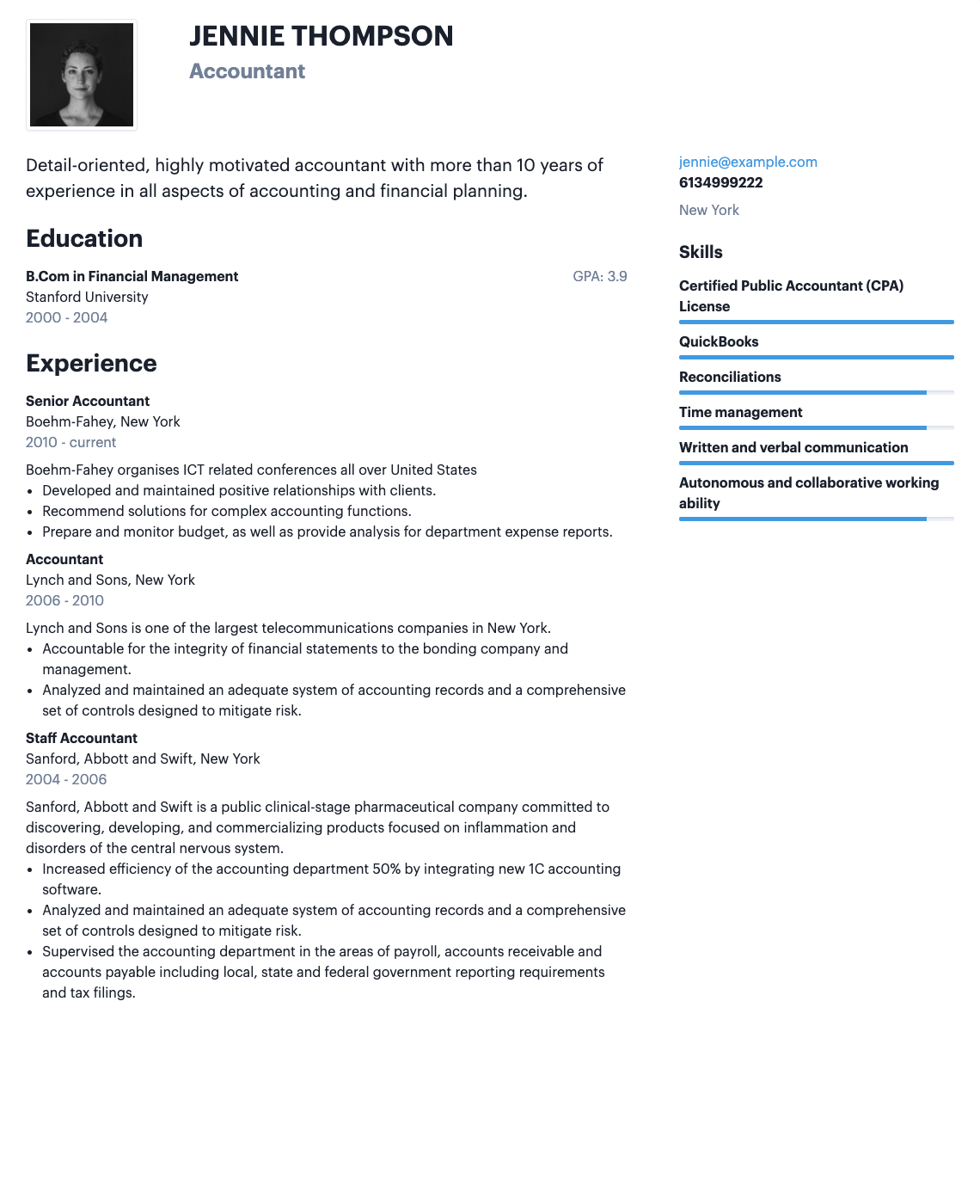 Used by people to get hired at the best companies
Canva
Canva is well-known as an easy-to-use graphic creation tool. It does, however, provide a decent résumé builder. If you have design knowledge, you may start from scratch or utilize a pre-designed template and modify the incorrect facts with your own. All of Canva's graphic design software is also accessible for resume creation. That indicates you may include components, shapes, customized pictures, and other things on your resume. It is not for total beginners, but it will undoubtedly assist you in creating a creative resume.
Canva's free plan is most likely all you want to create resumes. You receive 1 GB of pictures and access to hundreds of resume templates. Canva for Work subscription is a $ 12.95-month plan that offers loads of free images, extra organizing features, and team participation.
HipCV
With hipCV, you will give yourself a competitive edge at every employment opportunity. With its simple, user-friendly design, you can generate a strong resume in minutes. You most certainly have a CV, but if it is not updated recently, hipCV walks you through the process, providing pre-written phrases and resume samples that can increase your chances of being hired. If you desire a new CV, it should assist you with that as well. It functions everywhere, allowing you to create a mobile-friendly website for your CV or download and publish it as a PDF.
HipCV records every visit to your online CV, whether you post a link to it on social media or send it through email. You can check the location and time of the visit on a map so you know who it is and may schedule your follow-up emails to verify you are currently in a recruiting manager's considerations. HipCV also has impressive cover letter styles that complement your resume.
Is Canva good for resumes
Canva can be a great tool for creating resumes, especially if you are looking for a user-friendly and visually appealing interface. It offers a wide range of professionally designed resume templates that you can easily customize to fit your preferences and needs. With its drag-and-drop feature, you can add, remove, and edit elements on your resume effortlessly. Canva also provides various customization options, allowing you to change colors, fonts, and layouts to create a unique and polished resume. You can upload your images or choose from Canva's extensive library of graphics and illustrations to enhance your resume's visual appeal. However, it's essential to keep in mind that while Canva is suitable for creating visually appealing resumes, it may not offer the same level of customization or advanced formatting options as specialized resume-building platforms. If you require specific formatting features or need to tailor your resume for a particular industry, you might consider using dedicated resume-building services that provide more comprehensive functionalities. Nonetheless, Canva remains a popular choice for those seeking an intuitive and creative platform to design their resumes.
Why not use Canva for a resume
While Canva is a popular graphic design tool and offers visually appealing templates, there are a few reasons why it may not be the best choice for creating a professional resume;
Limited Customization for Text Parsing
ATS (Applicant Tracking System) software used by many employers relies on simple, text-based parsing. Canvas designs often involve complex formatting, graphics, and columns, which may not be parsed correctly by ATS.
Generic Templates
Canva templates are widely used, and if your resume looks too generic, it might not stand out to employers. Customization options are limited, and many resumes created on Canva end up looking similar.
Lack of Professionalism
Some employers prefer traditional and professional resume formats. Canvas templates, with their creative designs and colors, may not be suitable for industries or positions where a more conservative approach is expected.
Accessibility Issues
Not all companies or ATS systems are equipped to handle visually intricate resumes. If your resume is not easily accessible or readable, it could be a disadvantage in the hiring process.
Free Version Limitations
While Canva is free to use, some advanced features and templates may require payment. Free versions may also add a Canva watermark to your resume, which looks unprofessional.
Not Industry-Specific
Canvas templates may not be tailored to specific industries or roles. A resume should be crafted to highlight skills and experiences relevant to the job, and Canvas generic templates might not cater to industry-specific needs.
If you decide to use Canva, it's crucial to carefully consider the industry and role you're applying for. Always check your resume's compatibility with ATS systems, and consider creating a plain text version for online applications. If visual appeal is important, strike a balance between creativity and professionalism.
Is there a free resume builder without payment
Yes, there are several free resume builders available that do not require payment. Here are some popular ones;
hipCV: hipCV's free resume builder provides analytics tools that enable individuals to create effective resumes and monitor their progress in real time. HipCV offers an extensive method to job applications by integrating the science of data analytics with the art of resume production, keeping job applicants one step ahead of the game.
Indeed Resume Builder: Indeed offers a free resume builder with multiple template options. It's easy to build, modify and download your resume.
Google Docs: Google Docs provides templates for resumes that you can customize. Since it's a cloud-based service, you can access your resume from anywhere.
Canva: Canva offers both free and paid versions. While the free version has limitations, it allows you to create visually appealing resumes.
Resume.com: Resume.com provides a free resume builder with various template options. You can download your resume in PDF format without any charge.
LinkedIn: LinkedIn allows you to create and download your resume for free. It also guides on building an effective profile.
Remember that while these tools offer free versions, some may have limitations on features or design options. Additionally, ensure that the resume you create is compatible with ATS (Applicant Tracking System) software commonly used by employers. If you require advanced features, some platforms may offer premium versions at a cost.
What is Canva used for
Canva is a versatile graphic design platform that offers a wide range of tools and features for creating various visual content. Here are some common uses for Canva;
Graphic Design
Canva is widely used for designing graphics for social media posts, presentations, posters, banners, and other digital or print materials. It provides a user-friendly interface with drag-and-drop functionality, making it accessible for users with various design skill levels.
Social Media Graphics
Canva offers templates for creating visually appealing graphics for social media platforms such as Facebook, Instagram, Twitter, LinkedIn, and more. Users can customize these templates with text, images, and other design elements.
Marketing Materials
Businesses and individuals use Canva to design marketing materials, including flyers, brochures, business cards, and promotional materials. The platform provides pre-designed templates that users can easily customize for their specific needs.
Presentations
Canva has features specifically designed for creating engaging presentations. Users can choose from a variety of presentation templates, customize slide layouts, and incorporate multimedia elements to enhance their presentations.
Infographics
Creating visually appealing and informative infographics is made easy with Canva. Users can choose from a range of templates or design their infographics from scratch, incorporating icons, charts, and other elements.
Educational Resources
Canva is used in education for creating educational materials such as lesson plans, worksheets, and visual aids. Teachers and students can collaborate on projects and presentations using the platform.
Canva Resume Builder
Canva also offers a resume builder feature, allowing users to create professional and visually appealing resumes. Here's how it works:
Choose a Template:

Canva provides a variety of resume templates. Users can choose a template that suits their style and the industry they are applying to.

Customize Content:

Users can customize the content of the resume by adding their personal information, work experience, education, skills, and other relevant details. The drag-and-drop interface makes it simple to rearrange sections and elements.

Design Elements:

Canva's resume builder allows users to add design elements such as icons, illustrations, and colors to enhance the visual appeal of the resume. This can help the resume stand out in a competitive job market.

Download and Share:

Once the resume is complete, users can download it in various formats (PDF, PNG, etc.) and share it digitally or print it for physical copies.
Canva's resume builder is popular for its user-friendly interface, customizable templates, and the ability to create visually striking resumes without the need for advanced design skills. It's a convenient tool for job seekers looking to present their professional information in a visually appealing way.
Still deciding? Perhaps these FAQs can help!
We hope these resolve the doubts you have while comparing Canva and hipCV if you're still on the fence.
---
Q1. Is it worth it to use Canva for creating resumes?
Canva resume templates are visually appealing, but they do not provide enough room to include an in-depth employment section.
The visual components are challenging for software to scan, and an ATS-friendly resume is essential unless you want to submit an email straight to the employer. Canva is a global visual design platform, and it is not a professional resume-builder that can provide similar features to a pro one. Overall, Canva is a free tool for CV designs.
Employers, on the other hand, place a high value on resume material. And pay attention: if you must pick between making a creative resume and one that will pass ATS software, definitely go with the latter.
Q2. What is the difference between Canva and HipCV?
HipCV is a professional resume builder software. It is beneficial for job seekers from any field/ organization in their job search process, when they require an impressive-looking resume. Canva is a free tool, and it doesn't provide pre-written phrases, resume analytics tracking, and creating resumes in Canva can be a time-consuming process. But, HipCV provides these features along with a cover letter builder, which Canva doesn't offer.
Q3. Does HipCV have a free plan?
Yes, the free plan offers an online professional presence;
Professionally designed templates

Access to thousands of pre-written phrases.

Option to customize colors