9 Tips for applying for jobs
Applying for a job is an essential component of the recruitment process. The job application demonstrates your enthusiasm for the position while also informing the company of your appropriate experience and qualifications. Understanding how to correctly fill out a job application can significantly boost your likelihood of being invited to an interview. This blog will go over a few tips and suggestions for skillfully completing and submitting a job application.
Essential information to apply for a job
You must include specific kinds of details when applying for a job, either through a web-based job application, an emailed resume and cover letter, or a printed application.
Many businesses expect the following details;
Contact details. Name, residential address, mobile number, and email address.
Work record. Employer, phone number, email address, manager, job designation, job duties, and employment periods for every job you have worked
Academic information. Schools attended, degrees earned, dates of completion of the course, and accreditations.
References. A few organizations look for the names and phone numbers of references as an aspect of the application method, while some wait until applicants are interviewed.
Prepare to apply for a job
Formulating your application resources ahead of time will help to speed up the process. You can effortlessly and promptly apply for jobs if you construct a master list that contains your contact details, schooling, and work background.
A resume and cover letter are necessary for many jobs. You can build a thorough resume that involves your job record, education, qualifications, professional success, expertise, and undertakings. Then, when seeking employment, modify it to reflect the specific role you're seeking. Plan to compose a cover letter that is also job-specific, emphasizing your most applicable certifications for the role.
Find job postings
When you're prepared to apply, the next phase is to look for open positions that fit your expertise and preferences. You are not required to utilize each job search website. Rather, concentrate on the better job boards and narrow your search. The best job sites offer enhanced search features, which allow you to find postings that are a tight fit for what you're seeking. The application method is straightforward, and you might be willing to save your resume digitally so that you can apply to various jobs at once.
Apply for online jobs  
Most of your hiring process will be done electronically, whether through a job portal or straight on a company's website if you are searching for a new position. To apply for jobs electronically, you'll have an email address, internet connectivity, and an updated resume. Usually, online software systems request contact details, academic qualifications, and work history. You must be aware of when you operated at your past employment. You might also be questioned about which days and times you are willing to work. Some websites allow you to submit and save a resume, which you can then use to qualify for various jobs.
Apply on a business website
Company websites are excellent avenues for job advertisements, especially if you understand what organizations you want to work for. Several corporate websites allow you to browse for and submit for jobs straight from the source. Many company websites permit you to qualify online for careers at all stages, from part-time hourly roles to executive positions. Career information is typically found in the site's "Careers" or "About Us" sections. Pursue the digital job search and application guidelines.
Email the job application
When applying for jobs via email, the correspondence must be formal. The email texts must be formulated, with an appropriate subject line and sign.
Submit an in-person job application
When applying for positions in person, take the following items;
School names with starting and ending dates

Past companies' names and addresses

Employment dates for every organization

Three references with contact details

Resume Copies

Availability to start working
Keep track of job applications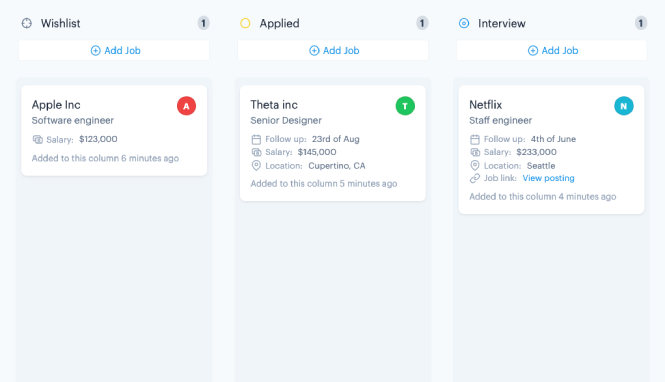 Organizing your job hunt and monitoring your applications is nearly as crucial as seeking job prospects and sending your application. You'll need to be capable of checking the job, the organization, and the place and date you applied, particularly if you're submitting for several jobs.
Follow-up with companies
You submitted your application to an organization you'd want to interview with but have not yet received a response. So what to do? You could either keep waiting, expecting the company to reach you if they are keen or you can prefer to be in touch with the hiring manager. Checking up will demonstrate to the organization that you are committed and invested in the position, but that doesn't imply that you will receive a reply from them.
How to apply for any job with no experience
If you are a recent college graduate or seeking a new position in a distinct sector, highlight your current skills to illustrate businesses you are qualified for the position. Check for relevant experience when you succeeded in college or at your past job.
Emphasize your soft skills, like;
Communication

Organizational

Problem-solving

Detail-oriented

Time management

Interpersonal skills
Meanwhile, try volunteer work or participating in co-curricular activities to demonstrate that you are responsive in developing your expertise. Apply for work that doesn't involve experience or accept lower-paying entry-level roles like traineeships or apprenticeships. Establish side projects that will assist you to expand your portfolio if you want to work in the creative field. Seek advice from your former educational institutions on how to join the workforce with little experience. They may be aware of unpaid work opportunities or significant career materials. In the resume, make sure to include accomplishments like top grades, credentials, and recognitions.
Key Points
You'll have to remember your work record when applying for jobs, such as the businesses you were working for and the employment start and end dates.

Making a detailed list of all the details you'll require to apply will speed up the job application process.

Apply for jobs online on company websites, through job boards, email job applications, or apply in person for job roles.

Keep track of job applications by using hipCV

Job Application tracker

to make your job application process easy and convenient.

Follow up with the companies, if you haven't heard from them for a while.
Create your resume in minutes for FREE.
Use resume templates that are tested and proven to fit the rules employers are looking for.
Create resume now