How to write an event planner cover letter
An event planner cover letter is a formal document submitted along with a resume when applying for a job as an event planner or event coordinator. Its purpose is to introduce yourself to the potential employer, highlight your relevant skills and experiences, and express your interest in the position and the company. In an event planner cover letter, you should demonstrate your qualifications and showcase how your previous event planning experiences and abilities align with the specific requirements of the job you're applying for. The cover letter provides you with an opportunity to go beyond the information in your resume and share more personal insights and motivations.
Elements of an event planner cover letter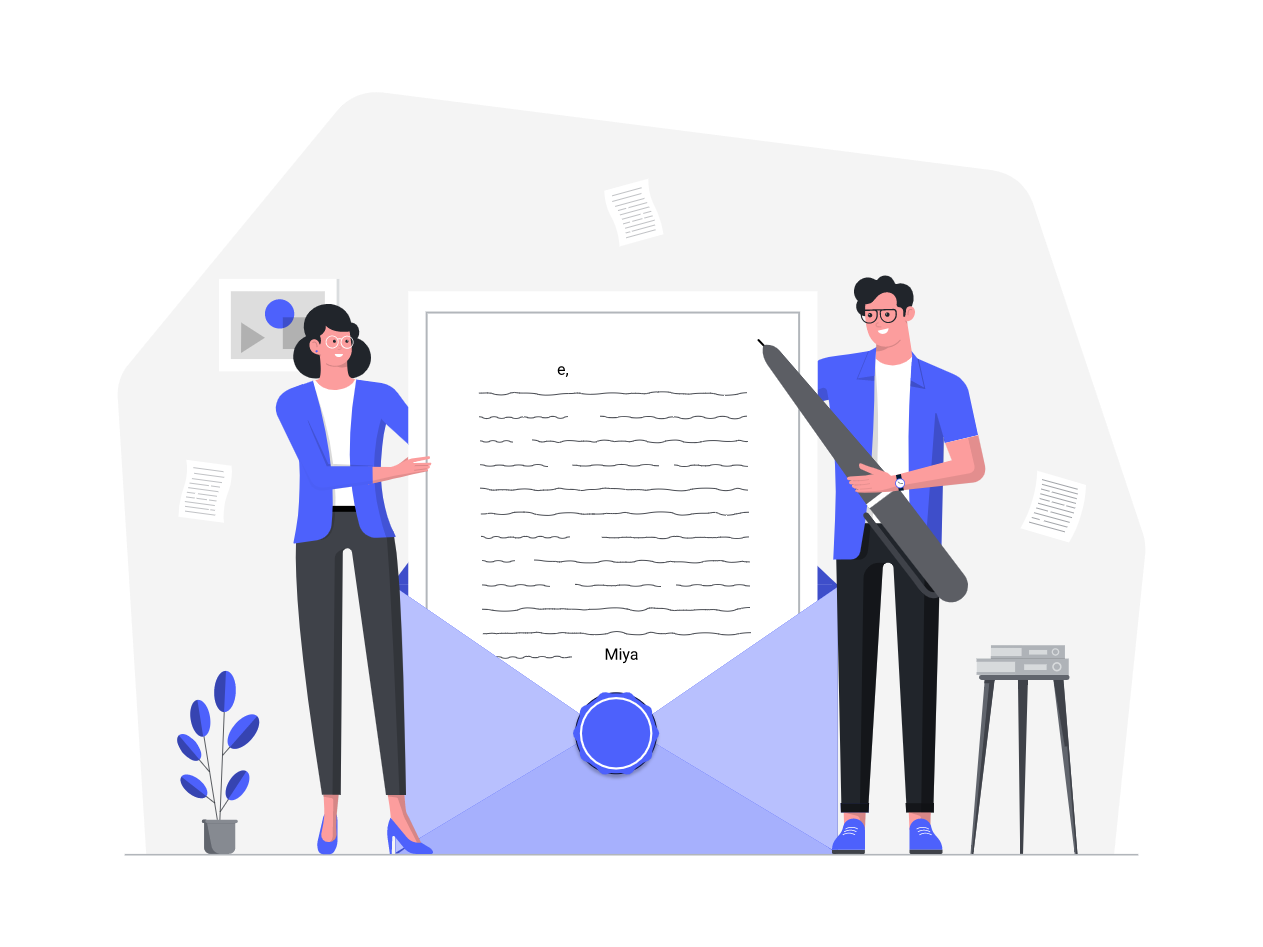 A well-written event planner cover letter should typically include the following elements;
Introduction

: Introduce yourself and mention where you learned about the job opening or any personal connections you have with the company.

Relevant Skills and Experience

: Highlight the core skills, experiences, and achievements that make you a strong candidate for the event planning role. Emphasize your ability to handle multiple tasks, manage budgets, coordinate logistics, and work with various stakeholders.

Specific Achievements

: Use concrete examples to demonstrate your success in planning and executing events. Mention any notable events you've organized and the positive outcomes resulting from your efforts.

Passion for Event Planning

: Express your genuine enthusiasm for event planning and your dedication to creating memorable and successful events. Share why you are passionate about this industry and how you keep yourself updated on the latest trends and best practices.

Company Fit

: Explain why you are interested in working for the specific company. Research the company's values, mission, and recent events to demonstrate your understanding and alignment with their goals.

Soft Skills

: Highlight your communication, organizational, problem-solving, and teamwork skills. These soft skills are essential for any event planner to effectively handle the complexities of event coordination.

Closing

: End the cover letter with a strong closing statement, expressing your eagerness to further discuss your qualifications in an interview. Thank the employer for considering your application.

Professional Formatting

: Ensure that the cover letter follows a professional format with a proper salutation, body paragraphs, and a polite closing.
Other resources on event planning, how to write an event planner resume, how to become an event planner, event planner resume sample, event planning skills for resume and cover letter
Tips for writing an event planner cover letter
Writing a compelling event planner cover letter can significantly increase your chances of landing your desired job. Here are some tips to help you create an impactful cover letter;
Tailor the cover letter: Address the specific requirements of the event planner position you're applying for. Research the company and the event planning industry to demonstrate your genuine interest and understanding of the role.

Personalization: If possible, address the cover letter to the hiring manager or relevant person.

Introduction: Start with a strong opening paragraph that introduces yourself and states the position you're applying for. Mention how you learned about the job or any personal connection you have with the company.

Showcase your qualifications: Highlight your relevant skills, experience, and achievements. Mention any successful events you've planned in the past and how your contributions made them successful. Use metrics or data to quantify your accomplishments whenever possible.

Align with the company's values: Demonstrate that you've researched the company's values and objectives and explain how your skills align with their mission. Show enthusiasm for contributing to their success.

Emphasize soft skills: Event planning requires strong organizational, communication, problem-solving, and teamwork skills. Share specific examples of how you've utilized these skills to create successful events.

Attention to detail: Event planning demands precision and meticulousness. Mention your ability to handle various aspects, from budget management to coordinating logistics, while ensuring nothing falls through the cracks.

Adaptability and flexibility: Event planners must be adaptable and able to handle unexpected challenges. Showcase your ability to adjust plans on the fly and keep events running smoothly.

Passion for the industry: Demonstrate your passion for event planning and your dedication to staying up-to-date with industry trends and best practices.

Conciseness and clarity: Keep the cover letter concise and avoid unnecessary jargon. Use clear and professional language to convey your points effectively.

Proofread and edit: Check your cover letter for any grammatical errors, typos, or inconsistencies. A well-written, error-free letter reflects your attention to detail.

Call to action: End your cover letter with a proactive statement, expressing your eagerness to discuss your qualifications further in an interview.

Professional formatting: Use a clean and professional format for your cover letter. Stick to a standard font and maintain consistency with your resume.
Remember, a cover letter should complement your resume, not duplicate it. Use this opportunity to demonstrate your personality, passion, and commitment to the event planning field. Customizing each cover letter for the specific job will show the employer that you genuinely care about the opportunity and have taken the time to optimize your application to their needs.
Event Planner Cover Letter Example
Dear Employer,
I am writing to express my keen interest in the Event Planner position at ABC Company. With a successful track record of orchestrating exceptional events and a passion for delivering unforgettable experiences, I am confident that my skills, qualifications, and accolades align perfectly with the job specifications.
Over the past seven years, I have honed my event planning expertise, leading the coordination of diverse events ranging from corporate conferences to high-profile weddings. My exceptional organizational skills enable me to manage multiple tasks, tight timelines, and budgets without compromising on quality. As a meticulous planner, I pride myself on attending to every detail, ensuring seamless execution and exceeding client expectations.
Key skills and qualifications that make me an ideal fit for this role include:
Event Logistics Management

: Proficient in overseeing all aspects of event logistics, including venue selection, vendor coordination, catering, and audiovisual setup, resulting in smooth and successful events.

Budget Oversight

: Proven ability to manage event budgets of varying sizes, optimizing resources and negotiating with vendors to achieve cost savings without sacrificing event quality.

Client Relationship Management

: Skilled at building strong relationships with clients, understanding their unique requirements, and tailoring events to match their vision and objectives.

Creative Vision

: Adept at developing creative event concepts, themes, and décor, elevating events to new heights and leaving a lasting impression on attendees.

Team Leadership

: Demonstrated leadership in managing event teams, fostering collaboration, and ensuring a cohesive effort to deliver flawless events.
Accolades and achievements that highlight my success as an event planner include;
Received the "Event Excellence Award" for orchestrating a high-profile charity gala that raised $200,000 for a local non-profit organization.

Successfully managed a regional conference with over 500 attendees, receiving overwhelmingly positive feedback and testimonials from both clients and participants.
I am enthusiastic about the prospect of joining ABC Company, renowned for its commitment to innovation and creating unparalleled experiences. The company's dedication to fostering creativity and excellence resonates with my own values and aspirations.
I am excited about the opportunity to contribute my skills and passion to ABC company event planning team. I welcome the chance to discuss how my qualifications can support and enhance your upcoming events.
I look forward to the possibility to further discuss my qualifications and learn more about ABC's vision for future events.
Sincerely,
Jessica Geller
Create your resume in minutes for FREE.
Use resume templates that are tested and proven to fit the rules employers are looking for.
Create resume now