Tips for Zoom interview
An interview process may be a daunting and stressful event, but you can change it. You can feel optimistic and ready to understand how to tip the scales in your favor, specifically when so many interviews transition to online networks like Zoom. More businesses may decide to use technology for communication to interview candidates. It's because it is more suitable for remote jobs or preliminary screening interviews. Because this sort of interview differs from a regular face-to-face interview, you must examine a few aspects of this approach. In this post, we'll go through some strategies for preparing for your Zoom interview session.
What is a zoom interview call?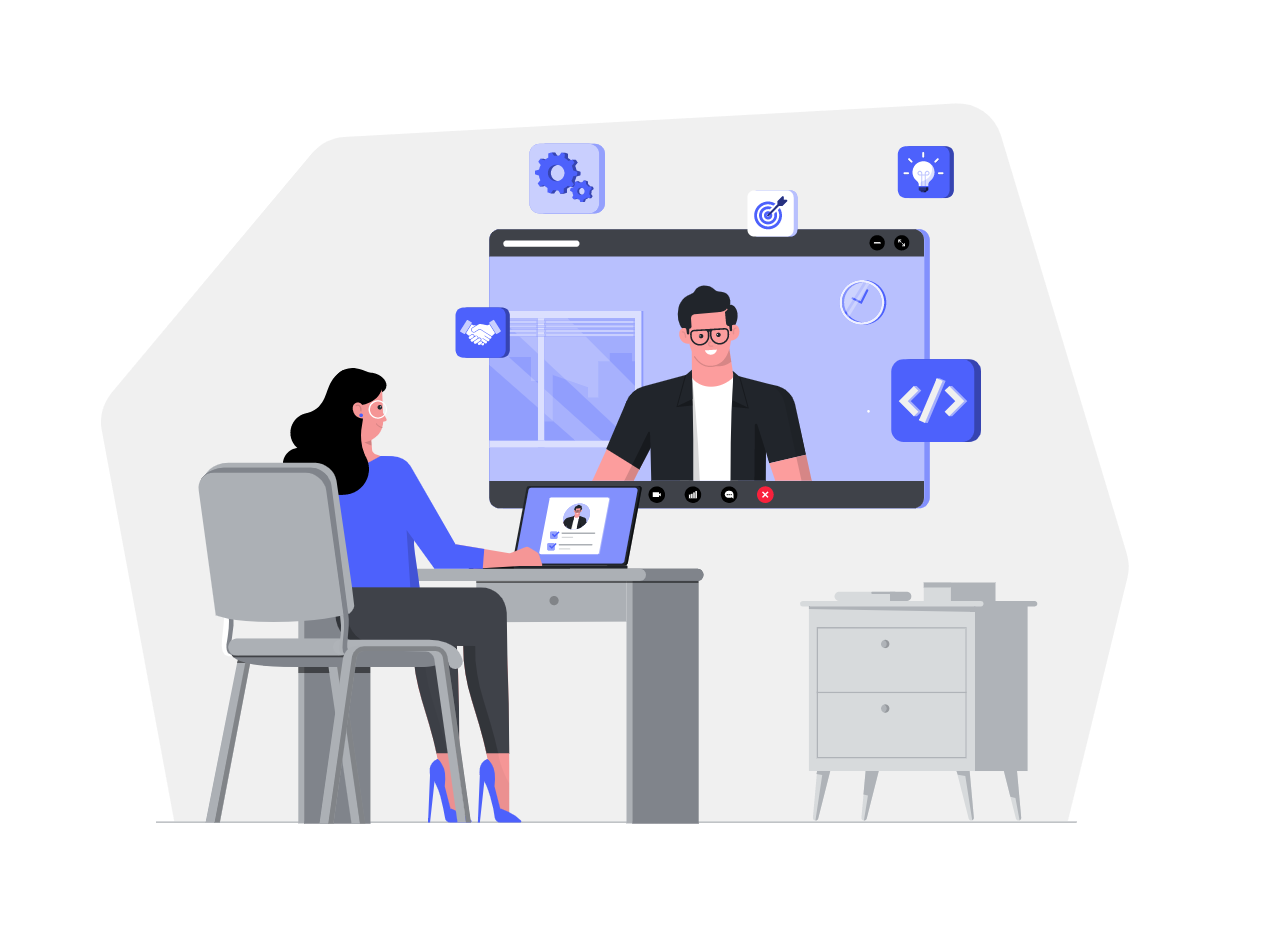 Zoom is a form of visual application that many businesses employ to communicate with others remotely. It includes options like web conferencing, text chat, video filming, and muting. Once you've mastered how to utilize these technologies, you'll be able to use them to your benefit for your upcoming video interview.
Tips for Achieving Success in Zoom Interviews
These Zoom interview techniques can assist you in mastering this video tool and displaying to companies that you are a suitable prospect;
Zoom offers a function that allows you to silence your sound. It is a tool to have when your interviewer is conversing for lengthy periods. They won't be able to understand anything from you if you use the mute button. It's beneficial there are excessive disturbances in your home, like dogs barking or children playing. Keeping your mouth quiet while they talk might assist your interviewer in emphasizing what they intend to say to you.

Making eye connection with your recruiter is a show of competence and courtesy throughout the face-to-face interview. It is a little distinct with video chat since if you look them in the eyes on your monitor, it may not appear that way on their side. But, while conversing, look at the camera. It gives the impression that you are gazing at them instead of on the screen.

When establishing your device, pick a clean and clutter-free location. Ensure your backdrop is minimal rather than crowded and that it only contains professional-appearing stuff. Arranging in front of a white wall or a few discreet accessories illustrates professionalism and precision.

Throughout your Zoom session, the hiring manager must be able to analyze your body language and facial gestures. Pick a well-lit room where they can see you. Setting up your interview spot in front of a window that allows in a load of natural light is an excellent method to make yourself stand out. Arranging your workplace with a window behind you might cast reflections on your face, giving you the appearance of a silhouette.

Select a location that is calm and devoid of disruptions. It allows your hiring manager to focus only on what you want to communicate. Close windows and switch off audio or media to reduce other sounds.

Mute your device and set it aside before your Zoom interview. It allows you to pay attention to the interview instead of a text message or phone conversation. It could be an ideal option to put your device away for a few minutes ahead of your interview so you can calm your thoughts and focus on preparation.

Maintain your concentration on the monitor as your recruiter speaks. Indicate that you are actively listening to what they are saying, just like in a one-on-one interview. You may accomplish this by agreeing with what they talk, nodding while they say, and interacting depending on what interviewers communicate.

Switch off your device and computer notifications. Disable any social media platforms or other websites that might constitute an interruption. Put the Zoom conference on widescreen so that you watch only your employer.

Since Zoom offers mobile software, it is preferable to utilize it on a PC or laptop. When you place your desktop on a desk, you get a proper perspective of yourself, but carrying your handset may induce camera shaking. Your laptop camera also provides a better image of yourself to the recruiter and appears to come in smoother.

If your interview location does not have a charging place, ensure to charge your device before your interview. Usually, you must select a space where you can keep your computer connected for the whole interview. As a result, your gadget will be able to endure during an extended chat.

Before your virtual interview, download the latest version of Zoom. Similarly, perform a comprehensive system upgrade on your machine in advance. If you unintentionally tap on the download update message while your interview, your device may restart in the middle of it. You may confirm that your gadget is at its optimum by performing these upgrades a couple of hours before the interview.

Ensure you have a solid internet service before your

Zoom interview

. Examine your connectivity in the location where you intend to sit throughout the interview. If you can broadcast video or Zoom with others, you will have a secure connection throughout the interview.

If you are living with people, then tell them of your interview timing and location. Before your interview begins, tell everyone to give you room and maintain the noise low until you are finished. It is better if individuals you reside with a stay in a different room from you because you can concentrate.

Wear an outfit just like you will for a face-to-face interview. It suggests you must dress up in your best business clothing. Dress pants, formal shirts, official dresses are all excellent choices.

Learn everything there is to know about Zoom. Try out the technology by video chatting with friends and family. You may even do a few fake interviews to have a feel for how this sort of interview goes. Make your colleagues and relatives ask you conventional interview questions and then provide comments.

Make a quick list of the questions you would like to pose after the interview about the position. You might also write questions ahead of time so that you can ask. Make an effort to listen during the interview to talk on topics that the recruiter has not yet touched. Relevant questions can be about the firm's culture, the requirements of this position, or what the employer likes best about the organization.
Create your resume in minutes for FREE.
Use resume templates that are tested and proven to fit the rules employers are looking for.
Create resume now