What is a digital marketing cover letter?
A digital marketing cover letter is a technique to convince recruiters that you are an ideal applicant for a marketing role. A digital marketing cover letter must explain why you are a right fit, why you are enthusiastic about this specific Digital Marketing position, and what you can contribute to the organization.
A Digital Marketer Cover Letter Tips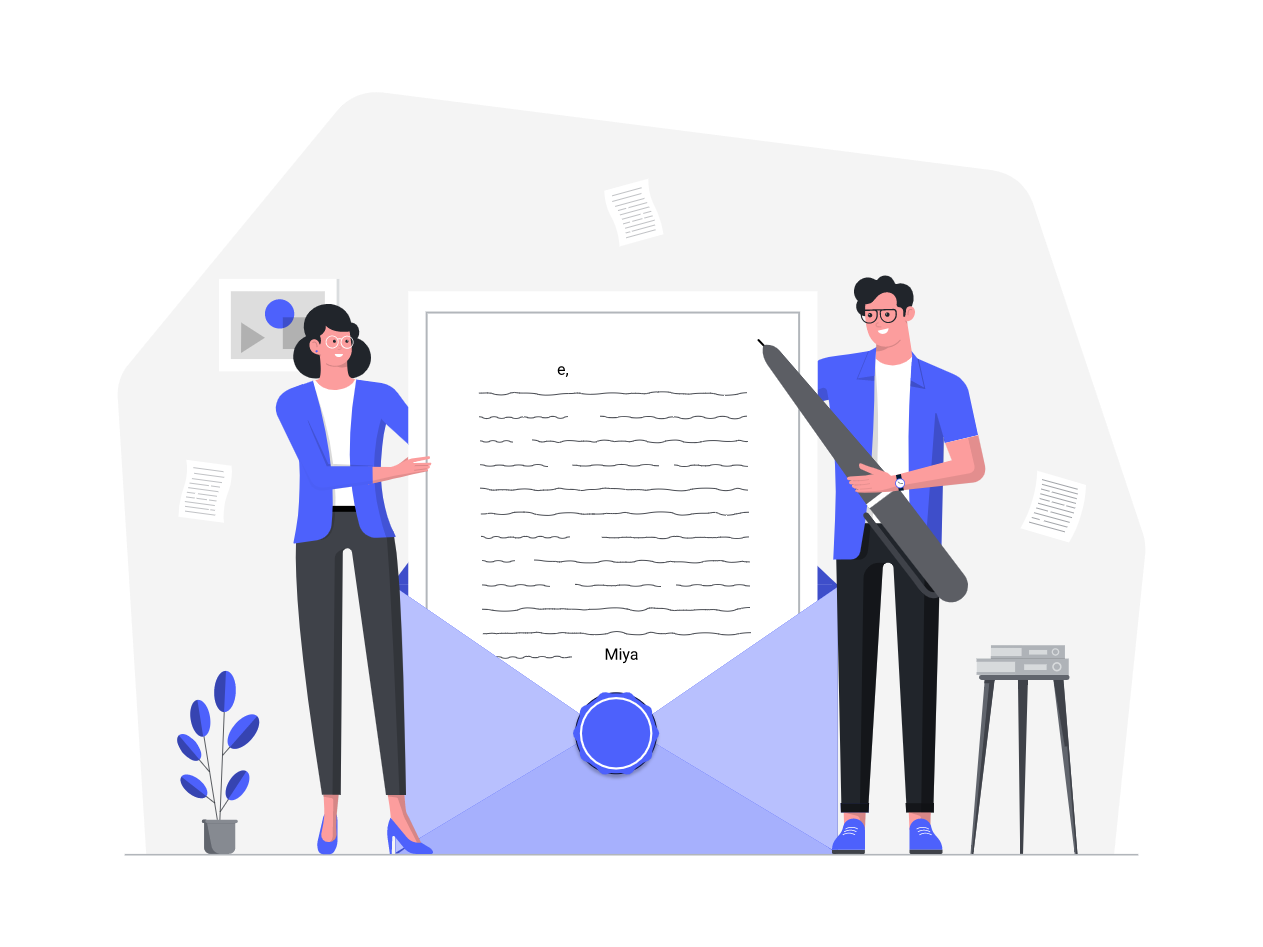 Here are a few techniques and best practices to follow while writing an effective Digital Marketer cover letter for any role.
Interestingly describe yourself and mention the position you want.
Emphasize your relevant and unique qualities.
Illustrate why you are a perfect candidate and what distinguishes you.
Finish gracefully with a compelling call to action.
Reviewing the company is one of the top-notch techniques to take.
Learn more about the firm before you start creating a digital marketing cover letter. Explore their site to discover more about their products or services. Mention their work in the cover letter to demonstrate your engagement in the firm.
Concentrate on necessary talents. Limit your cover letter to a single page and indicating abilities that are most applicable to the post. Examine the job description to discover the main talents the employer expects in a candidate. Provide practical examples of how your previous experiences, especially relevant marketing initiatives, related to these talents.
Make every cover letter unique. Customize the digital marketer cover letter to the job specifications. It demonstrates to recruiters that you are interested in their business. Employers identify generic cover letters.
Proofread before submitting it. Read your cover letter loudly to discover any odd language or absent phrases. Verify for spelling, grammatical, and typographical mistakes.
If you don't know skills and requirements to be in this profession, then here is a comprehensive guide on how to become a digital marketer and other posts on digital marketing, what skills should a digital marketer have, how to write a digital marketer resume.
What is the purpose of the Digital Marketing cover letter?
A cover letter helps businesses grasp your talents and experiences and are a suitable match for their firm. The cover letter is your opportunity to showcase your individuality and provide significance for your digital marketing expertise. Consider it a technique to sell yourself and persuade companies to advance you to the next step. Keep these following questions in consideration when you compose your digital marketer cover letter;
How your professional experience can add value to the position?
What qualities distinguish you as an outstanding Digital Marketing Specialist or Digital Marketing Manager?
Why are you interested in this position?
How might your previous experiences benefit this organization?
How to format a Digital Marketer cover letter?
The following is a basic framework you may use to build your digital marketing cover letter;
Heading - name and contact information
Date
The Employer name and title, company's name and address
Greeting
A compelling introductory paragraph for catching the attention of the reader
Body paragraph that illustrates your skills and experiences
Closing paragraph, clear call-to-action
Sign off
What things to include in a Digital Marketing cover letter?
Provide a headline with essential contact details, a customized salutation, and an impressive opening in your digital marketing cover letter. Following that, you must highlight your valid digital marketing expertise and illustrate why you are applying. Finish your cover letter with a friendly ending and a statement of intent.
Add your name, email address, and contact details at the beginning of your cover letter. URLs to your official site, online portfolio, and LinkedIn profile are also ideal. To establish a coherent application, the title in your cover letter must fit the heading on your CV.
To attract the employer's attention, greet them by name. Reviewing the job advertisement, corporate website, or LinkedIn may be necessary. If you cannot discover a single person's name, write it to a job or department, like Dear Marketing Manager or Digital Marketing Hiring Team.
Most recruiters scan resumes, so it is critical to make a positive impact. Describe the role for which you are applying and the essential talents you will offer to the corporation.
Emphasize your digital marketing abilities and expertise in the cover letter's body paragraph, mentioning the marketing tactics you have utilized and the social media networks you employed. Discuss particular achievements that are essential to the role you want. Select a few specifications from the job post and justify how you meet them.
Express why you want to offer your digital marketing expertise to their firm. Companies will check for cultural fit, marketing experience and state why you want this role and how it matches your ideals and ambitions.
Reinforce your interest and request a meeting or conversation with the manager to explore the position more. Acknowledge the recruiter for their time at the closing of your cover letter.
If you want to write a digital marketing resume, then here is a digital marketing resume sample to start with.
And you can prepare for your interview by checking out this resource that we have compiled for you, Digital marketing interview questions.
Digital Marketing Specialist Cover Letter Example 1
Dear Employer,
As an innovative and enthusiastic Marketer, I can provide expertise, experience, and motivation to the Digital Marketer Specialist role at ABC Organization. I have two years of industry experience coordinating social media platforms and implementing promotional strategies. I am excited to produce effective marketing programs for ABC firm's clients.
In my present position as Marketing Assistant at Scirizon Marketing Agency, I work with copywriters, graphic artists, and SEO professionals to create in-house marketing strategies. I am in charge of our social media platforms including, Instagram, Twitter, Facebook, and LinkedIn. Since beginning my position three months ago, I have contributed to a 35% increase in our subscriber list. I can use my expertise to promote ABC organization's clients build their social network.
Your Public Works promotion last year was one of the most remarkable marketing initiatives I have ever seen. I am enthusiastic about improving companies via innovative methods and delighted to join your enterprise and expand my marketing knowledge.
Thank you for considering me for the job of Digital Marketing Specialist. I will be glad to speak with you further about my knowledge and expertise. Feel free to reach me either by phone or email.
Sincerely
Amy E. Smith
Digital Marketing Specialist Cover Letter Example 2
Dear Employer,
I want to convey my enthusiasm for the Digital Marketing Specialist job. As an established and results-driven expert with ten years of professional experience directing digital marketing initiatives to meet or surpass sales objectives, I have the expertise to add value to the growth of the business.
I am dedicated to surpassing requirements and am very talented in planning and building new digital marketing strategies to increase market influence and advancement. I have a deep understanding of many marketing platforms and a track record of mixing successful digital marketing tactics. The following accomplishments show my suitability for this job;
For the last 10 years, I have excelled as a valuable player of Concord marketing agency, designing and releasing new approaches to satisfy digital marketing, tactical, and e-commerce requirements across different platforms such as internet sites, user interfaces, and mobile apps.
The design and implementation of social media activities, e-newsletters, and other marketing channels, boosted income by 45%.
Assisting the production of over $45 million in pipeline additions via digital platforms; generated a 50 percent growth in prospects through digital portals and a 29 percent rise in web visitors.
Managed comprehensive marketing campaigns that satisfied the requirements of target markets and encouraged spectacular revenue advancement and client engagement.
Demonstrated efficient communication, organization, and time management skills.
My established performance in attaining digital marketing targets and strategies, and my skill in establishing tactical efforts and activities at all stages of the marketing process, will help in the firm's progress. Thank you for your time and interest. I hope to communicate with you soon.
Sincerely,
Amy E. Smith
Digital Marketing Manager Cover Letter Example 1
Dear Employer,
With three years of professional experience in social networking sites, email marketing, and graphic arts, I am glad to apply for the position of Digital Marketing Manager at ABC corporation and contribute to the creation of unique marketing strategies.
At Accurafind Marketing firm, I am working as a Marketing Manager to help our customer brands and interactions flourish. In one of our projects, I supported in developing a complete marketing technique for a technology company. Helped the clients with the brand makeover, social media activity improvisation, and created a new emailing list. The business revenues increased by 40% as a result of this revamp. I have polished my communication abilities via interacting with clients and engaging with group mates regularly. And have the requisite knowledge and track record of accomplishment to assist Pegasus Marketing Agency in developing innovative campaigns.
I am committed to continually tweaking my skill. I hold a Bachelor of Commerce degree and a Credential in Digital Media and Marketing. I like Pegasus Marketing Agency's focus on interaction and integration, both of which I respect.
I will be glad to share my qualifications in detail with you. I have included my résumé, and you can reach me by phone or email. Thank you for your time.
Sincerely,
Amy E. Smith
Digital Marketing Manager Cover Letter Example 2
Dear Employer,
I am thrilled to have the chance to qualify for the role of Digital Marketing Manager at ABC Company. I have had the advantage of operating in the digital marketing sector for a while now and am always amazed at how many innovative marketing methods may effectively approach a specific audience. I am consistently on top of the latest marketing trends and skilled at connecting with a youthful population.
As ABC organization's Digital Marketing Manager, I oversaw a team of committed digital marketing professionals. I launched a study initiative to identify the most suitable digital marketing strategies for generating visitors to the company website. Also advocated that we redesign our website with a mobile-friendly structure and more bright colors with a better digital presence, which would involve live broadcast Q&A sessions and video clips of customers using the company's products and services and sharing their reviews. These recommendations led to a 200 percent growth in page views in six months.
The landscape of digital marketing is continuously evolving. It is critical for a marketing specialist to be up to date on new tactics and statistical information on how to contact, engage, and keep customers. I take part in marketing workshops and events and contribute to many marketing magazines and forums. It is incredibly satisfying to use my abilities in these domains to reach out to those who want to engage in higher learning.
I am grateful for the chance to know more about this position, and I hope to hear about your organizational goal. I feel I have significant perspectives to share and am always keen to learn from others.
Sincerely,
Amy E. Smith
KeyPoints
Elaborate why you are a suitable candidate for this particular position in a few phrases. Explain why you are thrilled about the role and the business and how the employment fits your career objectives.
Integrate your previous successes to the specifications mentioned in the job requirement in one-two paragraph. Concentrate on your most significant experience, credentials, and talents. Quantify your accomplishments with data and figures wherever appropriate. Avoid reiterating your resume's main points.
Finally, express gratitude to the manager for their time and thoughtfulness. You should also summarize your credentials for the position and indicate interest in moving on to the next step of the recruiting process.
Create your resume in minutes for FREE.
Use resume templates that are tested and proven to fit the rules employers are looking for.
Create resume now