Digital Marketer

Resume Example

Tried and tested resume example for your next job in 2023. Get a jump-start, by editing this Digital Marketer resume example. Just update this example with your details, download and launch your career to new heights today!
How to write a digital marketing resume
A digital marketer's resume must indicate an applicant's capability to assess corporate goals and apply marketing tactics and approaches to accomplish them. They should be skilled in site content creation and have a solid understanding of marketing software tools for email marketing.
The digital marketer's resume must demonstrate the expertise of internet platforms such as blogs, social media, and other new digital technologies. Digital marketers should be able to oversee marketing efforts and projects and exhibit outstanding introspective and problem-solving abilities.
If your digital marketing resume isn't landing you the job you want, this post will go through what you need to do to improve it. You can acquire your dream job by using our tested resume templates.
This digital marketing resume article will illustrate to you how to;
Select the appropriate resume format depending on your degree of experience.
Creating a convincing and successful digital marketing resume profile statement.
Composing a digital marketer resume with no work experience.
If it is necessary to include an education segment
Including digital marketing expertise and qualifications are of utmost importance and relevance.
Digital Marketer Job description
In the age of technology and social media, digital marketing is a relatively new career. In today's time, almost every sector needs digital marketing. The digital marketer is in charge of the core of the company's digital presence. It is up to the organization whether they are focusing on media platforms or web development.
Digital marketing is a broad phrase that encompasses a wide range of duties. If a digital marketer works sufficiently, they may eventually become a marketing manager.
The educational qualifications of a digital marketer entail a bachelor's degree in marketing or business, but they don't require a lot of job experience.
Roles and Responsibilities of a Digital Marketer
Professionals that organize a company's primary marketing activities are known as digital marketers. They use efficient marketing tactics and approaches to boost their organization's internet visibility and promotional worth. To accomplish digital marketing objectives, they formulate and maintain advertising campaigns, employ email marketing tactics, and utilizing social media.
Digital marketers are in charge of being the latest with industry developments and technologies that may help the firm. They can supervise outreach marketing efforts to increase the corporation's position and brand recognition. Digital marketers must have strong project management abilities along with digital marketing expertise. Here is a list of key responsibilities of a digital marketer;
Assess digital data to provide specific ideas for website optimization.
Perform social media checks to ensure that best practices.
Establish a digital dashboard for many accounts.
Build marketing initiatives in collaboration with the sales team.
Generate email messages to send to customers.
To monitor progress, keep an eye on essential internet marketing indicators.
Organize online listings across several e-commerce channels.
Make sure that the entire brand messaging is uniform.
If you are thinking to pursue a career in digital marketing, then here is our other posts on how to become a digital marketer, what skills should a digital marketer have, digital marketer resume sample, how to write a digital marketer resume.
Job Market Outlook
Digital marketing specialists have somewhat better career prospects than the typical profession. As per the Bureau of Labor Statistics, employment growth in the marketing industry as a whole will rise by 10% by 2026. This growth is higher than the national average for all occupations. Hiring managers particularly require skilled marketing analytics professionals, mobile marketers, digital marketing specialists, and social media strategists, as per the Online Marketing Association. Most marketing experts are in high demand for online and web marketing, SE marketing, and social marketing and interaction.
Resume Header
When a recruiter is skimming through a pile of resumes, the header section will capture their attention. Generally, it includes only your name, contact details, but some methods may make it considerably more helpful. You can put one or two certificates beside your name to demonstrate that you are more competent and professional without delving into your experience.
Following that, include links to your professional websites or social media profiles. It is especially beneficial if you are a frequent LinkedIn user or any other social network where you talk about digital marketing.
When you combine these elements, a standard header section becomes one that conveys, "I'm competent, qualified, and proud of my work."
If you are not sure what to write in a digital marketing cover letter, then here are some digital marketing cover letter writing tips.
Profile Statement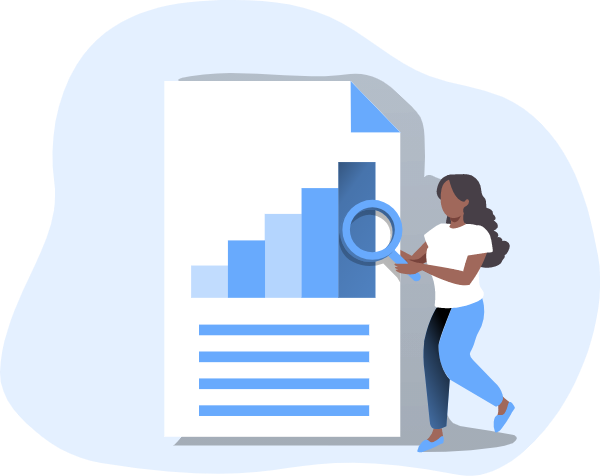 A concise profile statement is an excellent opportunity to show who you are and where your digital marketing abilities reside. It's also a section to demonstrate your writing skills.
But ensure it's precise and focuses on expressing why you're a better match for this particular position. Describe your most outstanding achievements and qualities. Consider adding as many strong action words and job-relevant information as possible. Digital marketers must analyze corporate objectives and implement marketing techniques to assist in achieving those targets. It is critical to emphasize your main qualities that successfully illustrate your credentials and successes for this role.
Digital marketing encompasses a wide range of activities. If you specialize in one or more fields such as social media, SEO, statistics, SEM, UX/web development, content creation, etc., your resume can be more efficient. Determine if you will have to develop plans or only implement them.
Digital Marketer Profile statement example
Have proven expertise as a Digital Marketer in creating, managing, and operating viable digital marketing initiatives. Applied successful advertising insight and campaign experience. Capable of developing and executing client-oriented, efficient strategies focused on increasing brand recognition and visibility. Proactive and resourceful marketer when it comes to maintaining digital marketing visibility information. Proficient in directing marketing teams to reach and excel digital marketing objectives.
Employment
Most importantly, your professional experience should reflect that you achieved outcomes. Be explicit about your objectives and how you achieved them. Merely stating your tasks does not provide a recruiter with any beneficial information. Outline all roles that are relevant to the role of a digital marketer. Ensure to utilize strong action words and highlight job-specific successes that display your abilities.
So, even if you lack professional work experience, there are several methods to demonstrate that you have the abilities and expertise required for an entry-level digital marketing position. Explain to the potential employer that you are self-motivated by obtaining qualifications, side projects, volunteering, etc.,
Digital Marketer Employment resume example
Assessed customer website for mobile responsiveness and efficient online visibility.
Created original material for a range of customers' websites to boost exposure and brand recognition.
Organized and examined data and marketing outcomes.
Identified keywords associated with client marketing activities.
Implemented specialized email marketing strategies.
Supervised teams of a marketing experts to evaluate the efficiency of marketing efforts.
Education
A degree in marketing or business can be advantageous mention such qualifications in your resume. But if you're a recent graduate, it is not essential to add a lot of information.
However, even if you do not have a degree, you may present your qualifications. The goal of the degree is to convey that you have specific necessary abilities. If you can show it in another way, that's even great. Finally, because digital marketing is such a rapidly evolving field, recent qualifications and expertise will be more beneficial than a marketing major from even a few years ago.
Check out these interview questions from top companies like Google, Microsoft Facebook, what is digital marketing interview questions?.
Skills
Because digital marketing contains such a wide variety of disciplines, you'll constantly have to pick which abilities to highlight.
In general, the following are the most in-demand digital marketing capabilities;
Strategic planning
Creativity
SEO
CMS
Social media
Communication
Crisis management
Data analysis
Paid ads
Google analytics
Facebook ads
Google ads
LinkedIn ads
Photoshop
Buffer
HTML/CSS/JS
Digital marketers, on the other hand, have to specialize in one or more sectors. Also, it is more necessary to identify the sort of digital marketer required by a job posting and highlight the talents essential for that role.
To be regarded as a potential applicant, present yourself as a competent and accomplished professional who has performed to design and manage successful marketing strategies.
Certifications
When you follow guidance from professional digital marketers, you will notice that certificates come up frequently. They are the simplest method to stand out from the crowd, demonstrate abilities, and grow as a digital marketer without traditional job experience. Here is a list of certifications for a digital marketer to include on a resume;
Bing Ads Accredited Professional Certification
YouTube Certification
Hootsuite Social Media Certification
Google Digital Garage: Fundamentals of Digital Marketing Certification
Hubspot Content Marketing Certification
Hubspot Inbound Marketing Certification
Google Analytics
Google Ads
Facebook Advertising
Moz Free Beginners Guide to Content Marketing
Resume Format
Based on the level of digital marketing expertise, you may choose one of two resume formats.
A functional layout is appropriate if you don't have enough digital marketing expertise, for instance, a digital marketing trainee resume. This style of CV prioritizes talents over employment experience.
A standard reverse-chronological structure highlighting your job history is ideal for individuals with considerable knowledge. You may even want to incorporate segments on your qualifications, but your actual professional experience should take precedence.
Digital Marketer resume examples
Digital Marketing Manager resume example
Profile statement
An experienced Digital Project Manager with over nine years of experience working in a digital medium. Widely praised for multitasking and completing numerous digital projects on time and under budget, meeting deadlines, optimizing ROI, and developing solid connections.
Skills
MS Word, Excel, Office

WordPress,

CRM Systems,

PowerPoint
Job description
Create, organize, and supervise marketing strategies to market the business's products and services.

Increase brand recognition in the digital world.

Increase user engagement and lead generation.

Using web analytics software, track site traffic, find and assess emerging technologies, and improve marketing strategies, email marketing, media platforms, and display and search ads.

During the first month, build a product display campaign that resulted in three recognized possibilities.

Conducted and performed all business, marketing activities, and promotion initiatives, which resulted in a 5% increase in site traffic in five months.

Prepared and released vital forms as electronic records leading to improving efficiency by 25%.
Associate Digital Marketing Manager resume example
Profile statement
Skilled marketing expert with a track record of success in fast-paced situations that necessitate excellent organizational and interpersonal abilities. Expertise in SEM and Search Engine Optimization. I am proficient in producing high-quality work, detail-oriented and proactive in project completion, capable of multitasking successfully and competently.
Skills
CS5
Google Analytics And Webmaster Tools
WordPress
Advanced SEO/SEM
Job description
Develop a yearly digital strategy, suggestions, and collaboration with conventional media.
Employ corporation-wide SEO and social networking strategies to enhance exposure, revenues, and community participation.
Create an optimization technique for the present situation, company needs, competitive market, keyword research, content, and link-building strategies.
Maintain over 30 web pages for content, SEO, page creation, and blogging.
Promote corporate and compliance requirements across all websites.
Oversee employees that are focusing on search engine optimization for the company.
Coordinate with digital suppliers that work on social and SEO campaigns.
International Digital Marketing Manager resume example
Profile statement
Marketing expert focuses on internet marketing and data analytics and a solid history in sales and customer service. Demonstrated performance in direct approach advertising across numerous online platforms, lead generation/customer acquisition technique, ongoing web consumer experience enhancement, and cost-effective advertising buying. Well-versed in start-up culture and experience in creating successful businesses.
Skills
Adobe Creative Suite
Magento
Google Analytics
Microsoft Office
Expression Engine
Adobe InDesign
Job description
Establishing and maintaining a digital marketing schedule for webinars; co-managing a common multi-product online marketing planner.
Developing multi-faceted webinar promotion, lead generation programs involving email design, email analysis, segment development, form construction, and search engine setup, tracking lead engagement using Eloqua statistics and campaign performance analysis.
Increased brand recognition from 11% to 35%
Constructed email messages with an overall response rate of 2.5 percent in over six months
Addressed webinar consumer concerns in collaboration with the customer support division
Handled system difficulties and problem-solving with web development and customer support team.
Digital Marketing Manager/Director resume example
Profile statement
Formulated and managed the multi-platform marketing strategy and collaborated with departments for leveraging all types of media. Proficient in online presence, search engine marketing, SEO, event management, web development, and market research.
Skills
WordPress
Campaign Monitor
Google Analytics
Job description
Develop and implement an online presence across multiple networks.
Formulate, build, and administer a corporate website to boost SEO.
Evaluate and analyze the efficiency of all digital marketing efforts, and compare results to goals. Collaborate with large corporations to devise and implement a complete marketing strategy.
Where applicable, present thought leadership and a point of view for adoption.
Evaluate patterns and insights, and then optimize spending and productivity based on the findings.
Implemented print, online media buys to boost brand recognition.
Crafted and designed sales pack materials.
Global Digital Marketing Manager resume example
Profile statement
Experienced Digital Marketing Manager with a significant level of qualification. I like creative problem-solving and gaining experience on many projects, and I would thrive in the interactive atmosphere that your firm values.
Skills
Copywriting
Email Marketing
People Management
Budget Development
Operations Management
Marketing Automation
Job description
In one year, website income increased by 55 percent.
Took a group of two email production experts for programming and generating best-in-class email marketing content.
I worked as a connector between various cross-functional departments to complete numerous projects on time.
I achieved long-term goals based on distinct organizational priorities and advising business owners on optimal ways to maximize ROI.
Obtained campaign data and created a monitoring dashboard to demonstrate campaign performance.
Helped set up the design and execution of many new email layouts to correspond with website updates and rebranding initiatives.
Communications & Digital Marketing Manager resume example
Profile Statement
Accountable for the strategic planning, execution, and administration of online-offline messaging initiatives aimed at media and industry involvement, along with promoting the worth of the market study enterprise. And I integrated with a well-established in-house SEO and marketing staff to support the firm in increasing relevant website visitors and KPIs.
Skills
SEO
Digital Marketing
WordPress
HTML/ CSS
Web Development
Job description
Developed, executed, and oversaw 10-15 SEO projects for clientele.
Campaigns involved keyword search, link-building strategy formulation, content marketing, and boosting local exposure. Prepared, customized, and assessed legal websites to guarantee maximum efficiency, availability, and usability.
Made planning process, supervising programmers, and monitoring customer content assets.
Maintain customer requirements and counsel clients on SEO best tactics, social media, and content production.
Generating monthly SEO estimates informing customers of web traffic, targets, and other KPIs, and the health of the SEO approach and future project schedule.
Trained new recruits in SEO best practices, customer consultation, and project planning.
Senior Digital Marketing Manager resume example
Profile statement
Determination and positive attitude to grasp new skills and transfer information to generate profitable company accomplishments. I am an asset to your firm and will encourage the organization's further growth.
Skills
Google Analytics
Photoshop
Google Ad words
Job description
Enhance the landing page, ad text, and bid strategy with A/B testing.
Implemented new marketing channels to boost user engagement resulting in 50,000 visitors.
Maintaining Facebook advertising, LinkedIn ads and verifying that the marketing content aligned with the corporation's strategic goals.
Modified projects and generate weekly reports.
Determining target audiences, conducted research, and analyzed customer data in Excel and SQL.
Google Analytics was used to examine the success of sponsored search campaigns, display initiatives, and mobile campaigns.
Regional Digital Marketing Manager resume example
Profile statement
Over 15 years of experience in digital media management. Have an understanding of how to navigate the halls and get things done. I was able to achieve exceptional outcomes by motivating the staff to enthusiasm, commitment, and performance.
Skills
Digital Marketing
Customer Relationship Management
Sales
Customer Service
Online Marketing
Job description
I was in charge of all internet marketing campaigns.
Directed the digital marketing group accountable for ten websites, email campaigns, social networks, and other internet activities.
In the first six months, I rebuilt the organization's overall web presence.
Started an online approach that increased e-commerce income by 45%.
I expanded the number of opt-in email recipients by 500%.
I worked with offline departments to establish a uniform cross-channel user interface.
Junior Digital Marketing Manager resume example
Profile statement
Thorough expertise and understanding in Digital marketing, email campaigns, content creation, social platforms, and brand management. I am a skilled business manager with excellent analytical and organizing abilities and the expertise to oversee team efforts to achieve organizational goals. Work behavior is proactive without guidance.
Skills
Social Media
Digital Video Producer
Business Blogging
SEO/SEM
Website Management
Reputation Management
Facebook Ads
Job description
To support small and medium-sized businesses, performed comprehensive material and social platforms assessments based on the customer's media tools.
Develop digital marketing tactics based on the client's business objectives, current content, and KPIs.
I organized content marketing workshops to emphasize on content creation, distribution techniques and to reach the audience.
Organized social media advertising seminars for customers, focusing on providing information across the appropriate social media platforms to increase audience interest, involvement, and credibility.
Applied content lessons gained as the foundation for newer and more successful content that informs, advises and addresses consumer queries to assist them in making informed purchasing decisions.
Arrange, evaluate, analyze, and offer tailor-made reports employing Google Analytics and other web advanced analytics techniques to assess content performance and suggest areas for refinement.
Prepare, launch, and assess email marketing campaigns with MailChimp and other email services.
Assistant Digital Marketing Manager resume example
Profile statement
A proactive and competent marketing expert in detecting market dynamics and consumer demands to design highly focused initiatives. I have experience in all marketing projects, from ideas to implementation in digital and physical contexts.
Skills
Digital Marketing
Public Relations
Writing
Communications
Job description
Create and analyze digital marketing strategies regarding corporate goals and consumer requirements.
Compile and manage consumer research information and business statistics, like KPIs, website and social media trends, survey findings, and finances.
Acquire and evaluate consumer profiles, preferences, requirements, and purchasing behaviors to discover prospective markets and variables influencing product sales.
Assess the efficacy of promotion, advertising, and information initiatives and tactics.
Create and assess data collection techniques and processes, like survey data, polling results, or prepare to get current.
On social platforms, carry out online marketing efforts like sponsored ad positioning, email promotions, or viral marketing strategies.
Keypoints
Concentrate your CV on one or two fields of digital marketing.
Based on whether you're a beginner or a professional digital marketer, go with a functional or reverse-chronological resume format.
Emphasize what you accomplished rather than what you were your responsibilities and tasks.
Display your qualifications and credentials in your resume header section.
To demonstrate their readiness for the job in the sector, entry-level digital marketers can leverage credentials and non-work experience.
Utilize credentials and instances to substantiate your abilities.
Create your resume in minutes for FREE.
Use resume templates that are tested and proven to fit the rules employers are looking for.
Create resume now