How to format a cover letter
A cover letter is an official document that you submit along with your resume. Its objective is to improve on the details present in your resume. A cover letter helps you describe yourself to the prospective employer, include a background for your accomplishments and skills, and illustrate your willingness to enter the business.
Firstly, you have to design and arrange the cover letter to make it clean and easily readable. Also, ensure your cover letter meets all the guidelines of the formal letter configuration protocol.
Secondly, formulate the cover letter that prospective employers will fully identify your unique selling point.
Many candidates do not understand how to structure and construct a cover letter correctly. Their designs are messy, and the contents practically put the employer in the position to reject them. So how to write the extraordinary cover letter in the right format that will get you the interview? Give us 15 minutes, and you will learn to compose and format a cover letter with these simple suggestions. This guide will discuss cover letter writing tips, cover letter formatting tips, with cover letter examples.
Cover letter example
Pointers for cover letter writing
Modify your header details as per the application layout
The header of each competent and formal cover letter for a work application must contain the following;
Phone number
Email address
Date
Hiring manager's name and their professional title
Name and address of the company
Adding professional websites
Social media accounts like Linkedin or Twitter
Provide a professional email address that implies either Gmail or Hotmail. A formal email address can only comprise of your name. For instance, toystory202@gmail.com or ilikeridingbikes@hotmail.com would be turnoffs. You should not add your present job address to submit your cover letter. It's inappropriate to both the present and prospective future employers. Ensure that your contact details are in sync throughout your resume, cover letter, and online accounts.
A cover letter requires the right salutation
When reading your cover letter, the initial thing the prospective employer notices is the salutation. It is the most significant aspect of the cover letter. When the potential employer discovers their name in your cover letter, they will feel that letter is for them and to get their attention.
Study and understand the company culture to decide whether to address the employer with their first or last name.
You can do some online analysis by going through the company website and other media platforms to know about the recruiter. If you don't have any details about the hiring manager, you can write 'Dear Employer' or Dear [ABC Corp] Team.
Compose an impressive beginning first paragraph
The cover letter starting paragraph will decide whether the employer will read it or not. You have to draw and retain the employer's attention in your cover letter preface.
The initial paragraph is to capture the attention of the recruiter
The second one is to demonstrate what you have to sell
The third is to validate that you align in with the company's culture.
There are successful methods for starting your cover letter. You can emphasize your accomplishments, demonstrate how well you understand the preferences of the hiring manager or focus the pitch on your passion.
Demonstrate your ideal profile for the role
You have to establish that you can fulfill the unique requirements of the organization. Display that you are a specialist in your profession in the first paragraph. The next part focuses on how your prior job background will support your prospective employer.
If you are searching to get a job in an organization, but there are no openings presently available, consider sending a letter of interest for the work. It's an optimal way to discover opportunities that are not present on any job board.
Your potential recruiters will have requirements. If they're able to employ you, it's because they know you're going to meet their expectations. The secret to preparing the ideal cover letter is to convince the recruiter why you want to have this position. It is necessary when developing a cover letter for entry-level positions. Optimism and excitement indicate that you're going to start the ball rolling. You can begin your third paragraph in the following way;
Start with the company's future venture.
Describe why you feel the project is fascinating.
Clarify that your qualifications and skills can help you to excel in the task.
It is better to have a brief and appropriate cover letter. There is a maximum of three paragraphs with a word limit of not more than 300.
Ending your final paragraph
It is essential to enhance the overall perception constructed with the preceding paragraph. It must make the potential employer enthusiastic when they begin to read your application. Inform the recruiter that you are hoping to meet in person. Also, exploring with them how your skillset and expertise will benefit your future employer accomplish company objectives.
Employ the correct formal closing
Once finished writing the cover letter body, all you have to do is place a proper closure at the very bottom. These are the ones that you can use to end your cover letter formally;
Kind regards
With best regards
Thank you
Best regards
Sincerely
Incorporate postscript to the cover letter
A perfect cover letter structure involves all of the above segments. There's a rare strategy that you can utilize, and it can act as a catalyst to attract the recruiter's attention. You can't avoid this data, it shouts. Employ the postscript to reassure the employer of something noteworthy regarding your profession, even if it isn't directly relevant to the position.
Also, mention if they find it fascinating, you will be glad to give them more information.
Remember to write a follow-up email after submitting your application.
Cover letter writing tips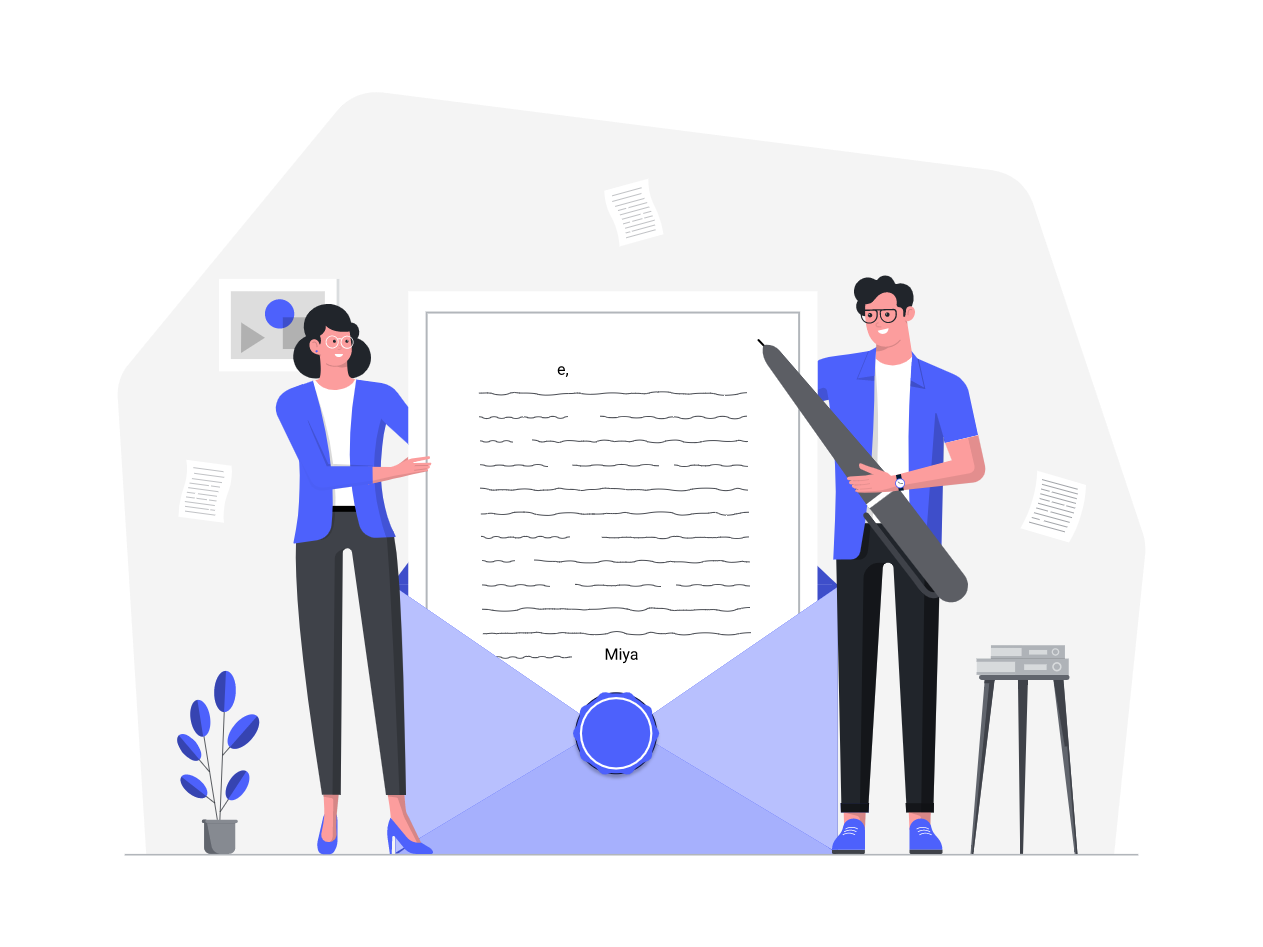 Insert your contact details in the header.
State the employer's name to address them in the cover letter.
Display the applicable milestones to describe yourself in the initial paragraph.
Evaluate the recruiter's expectations and show that you can benefit in the second part.
Clarify why you want to have the job role in the third paragraph.
Repeat your proposal and action statement in the closing paragraph.
End your cover letter with a proper closing and your full name with your signature.
Provide one more accomplishment to grab the employer's attention in the postscript.
Tips for formatting cover letter
Set the one-inch gap on both sides of the cover letter.
Adjust your material to the left.
Utilize business character spacing: 1-1.15.
Place the double room between the paragraphs.
Provide an online copy of your signature as a formal contact.
Keep your cover letter in PDF format. It is the ideal digital cover letter type since it retains the design original.
Straightforward, easily readable fonts are suitable for cover letters. Employ formal fonts such as Arial, Helvetica, or Times New Roman. Prevent custom font styles or special characters and maintain the font size around 11-12 pt.
Guidelines for cover letter writing
When composing your cover letter within the online employment application, there is no requirement to provide your contact details. You have previously entered them into other parts of the work application. You may utilize the same title as your resume if attaching your cover letter.
If you have information about the recruiter, start your cover letter by mentioning them individually, like, Dear Sarah Wallace. If you don't have any employer details, then introduce your letter with "Dear Employer." Experience the atmosphere of the organization as you determine how professional your greeting must be.
When practicable, say relevant stories that relate your expertise to actual problem-solving initiatives or measurable business performance that you achieved during your work. Any applicant may claim that they have a valuable ability. To make a lasting impression, you have to represent the employer's evidence of your qualifications and skillsets in action.
The cover letter size is not necessary until stated in the job requirements. When deciding how extensive the cover letter must be, concentrate on the specifics relevant to the work. Review the job specification in-depth to find the right ways to demonstrate your skills.
Pick one or two professional achievements and connect them specifically to the appropriate background or credentials that the recruiter is searching for, using only a few comprehensive yet descriptive statements. What are the job specifications for the position? Start utilizing the cover letter as a kind of means of illustrating certain features.
Don't repeat anything present on your resume. You like to concentrate on one or two experiences, build on how you've accomplished anything unique.
Check your cover letter for typos or grammar mistakes. Evaluating the letter aloud can improve some incorrect phrases or lengthy sentences. There are some mistakes that we seem to skim through. Ensure to do a careful review that explores every term.
For positions that need you to send a cover letter, note that you have a unique opportunity to show your knowledge and develop a snapshot of your real character. Take this chance to highlight your best attribute and reflect that you appreciate the recruiter's effort and time.
Cover letter Examples
Executive Assistant cover letter example
Dear Employer,
I am applying for the Executive Assistant job role at ABC Tech Pvt Ltd. You're searching for someone who acknowledges the complexities of handling a hectic day for the Chief executive officer and can promptly fix problems. Someone with strong attention to detail and a desire to organize, I rely on ensuring every day has a concrete strategy and convey every process.
In my former job at Silvermart, as an assistant working for the firm's top executive team leaders, along with the CEO. The senior officials valued my time management skills, writing capability, and dedication to quality.
I realize the significance of being strategic from my ten years of professional industry experience as an Executive Assistant. In particular, to be a specialist in organizing events, planning schedules, and handling travel plans, I can predict obstacles and establish better appropriate strategies.
I hope to know more about the Executive Assistant role at ABC Tech Pvt Ltd. I'm enthusiastic about the potential to function for one of the top industry leaders and look forward to discussing how I can make life simpler for your corporate officials.
Kind Regards,
Alexa Macarthy
Consultant cover letter example
Dear Employer,
I am applying for the role of Consultant at B&B Associates. Have years of comprehensive industry experience, I think I can be a beneficial member of this organization. I enjoy the thrill of operating in the consultancy sector and compliment myself on working collaboratively in a team, completing assignments, and enabling companies to make the most of their resources.
While working at ABC Consulting Co., I offered useful advice for more than seven years, and the firm has undergone an average growth of 6percent of total per year. The task was to optimize and find ways to improve efficiency by minimizing expenses.
I like studying the current developments and integrate that knowledge in a convenient form that is suitable for everyone to comprehend. I also provide daily presentations and include all of this knowledge to support business executives make educated and relevant actions. I studied at Los Angeles University with a Bachelor of Management (Honours).
I look forward to knowing more about the work of a Consultant at B&B Associates. I feel I am well-suited for this role, and I will be a useful asset to B&B Associates. If you've any concerns, kindly email me, and I'll be glad to talk about my credentials in more depth.
Kind Regards,
Alexa Macarthy
Internship cover letter example
Dear Employer,
I am a graduate student at Los Angeles University. I am keen to take up a part-time job as an intern at A&A Associates. I'm imaginative and well-versed with the current technological developments. I produce content that not only hits a broad audience but also interacts with them. I am productive and can manage time efficiently.
As a Social Media Coordinator at ABC Corp, my job was to supervise content schedules, created and posted messages, and moderated online comments. I acted as the company's face, communicating digitally with consumers. When the material was ready to upload, I used my managerial and critical reasoning abilities to post shared content.
With my initiatives, I made my clients satisfied and gained new guests. I possess knowledge and expertise in proposing ideas and of taking guidance. And I can easily switch between working from one website to another. I'm enthusiastic about combining graphic aids with the document, and I can integrate both into the articles. To grow the presence of ABC Corp in digital networking, I established a new social media approach. This strategy helped to increase online engagement by 75% a month.
I hope to know more about the Internship job and collaborating with A&A Associates. Diverse experiences are valuable to my development. An internship at A&A Associates will offer me the opportunity to contribute my talents, support the firm to promote its mission, and evolve as a young specialist.
Kind Regards,
Alexa Macarthy
Create your resume in minutes for FREE.
Use resume templates that are tested and proven to fit the rules employers are looking for.
Create resume now