How to make a TikTok video resume
Over the last few decades, the employment market has evolved dramatically. Today's competition is fierce, and the process has altered. Every sector, including recruiting, has been transformed by technology.
A video CV appears to be a frightening idea for many workers.
However, after a considerable time of job searching, you begin to strive for ways to stand out, a quick answer for capturing your trademark and submerging your prospective employer in it - Video Resume.
If you've been requested to create a video résumé, or if you want to build one to stand out from the crowd, this guide is for you. We'll go through what are video resumes? And how do you create a TikTok resume?
What is a video resume?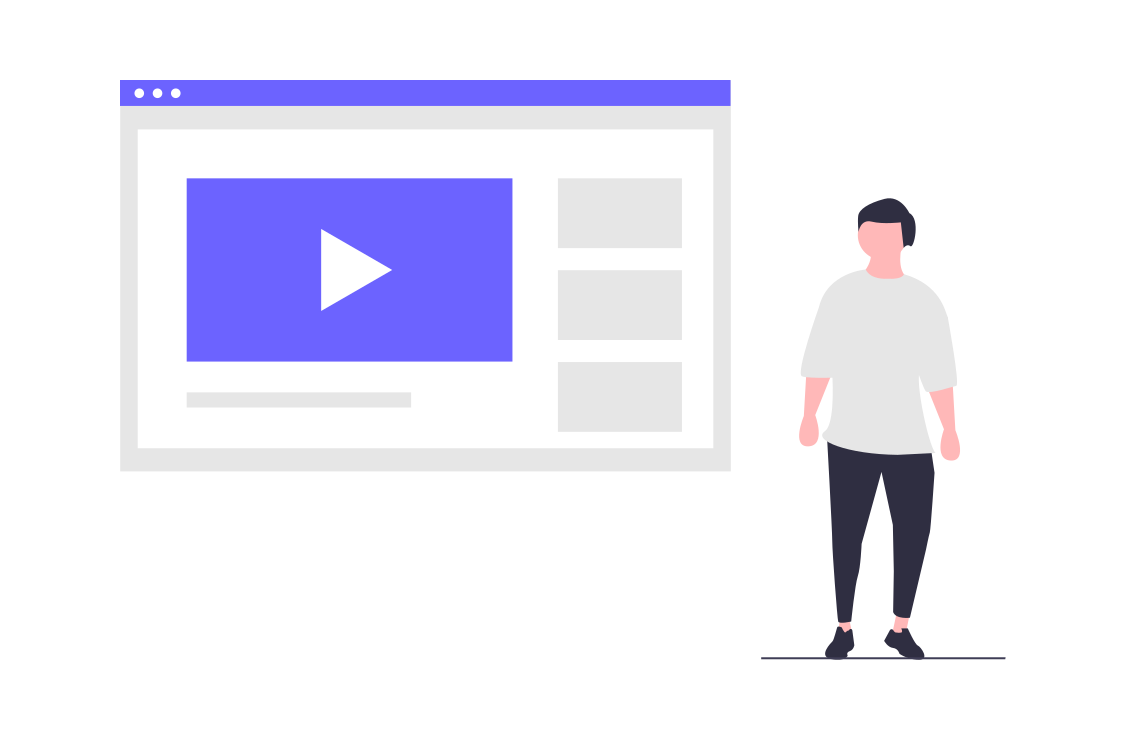 A video CV or video resume is a technique that may assist you in landing your ideal job. It entails more than simply converting your traditional CV into a visual manner. It allows you to display your individuality, make a great impression and highlight your expertise and abilities. You must provide the fundamentals, just as you would on a traditional resume.
Most of all, ensure you can address a straightforward question: Why does an employer recruit you for that particular position?
If you're a bit shy in front of the camera, don't worry! Not all video resumes must have an applicant speaking directly to the camera.
Types of Video Resumes
Other types of video resume formats include;
Animation video resume - Animation is a technique that manipulates objects to make them appear to move. If you work in an artistic or visual profession such as design, photography, graphic designing, video production, filmmaking, acting, tutoring, or cooking. This one will be a perfect option for you.
Stop-motion video resume - Stop motion is a method that captures one form or element at a time. The things in the picture are shifted a bit between shots. When the photos are put together in a video, the objects seem to move on their own.
Whiteboard video resume - is a technique by which a person sketches and captures a graphical tale using a whiteboard-type platform and marker pens. Scripted narration is used to supplement animations.
Pick a video resume style from any of the above that better describes you and your abilities. An excellent video resume should be between 30 seconds and two minutes in length.
What are the situations in which you can create a TikTok video resume?
In the following scenarios, you might consider providing a video resume;
When an employer has a mandatory requirement. Some businesses may request a video resume to offer a "sales pitch" about why you are an ideal match for a position. This technique also allows you to exhibit your character, something they may not have noticed from other aspects of your job application.
When you have a comprehensive résumé. If you have a lot of valuable experience, incorporating a video resume to quickly highlight your key attributes and assist the recruiter in knowing what makes you a distinctively eligible applicant. They may remember your main features after viewing your video resume and examining your standard resume, cover letter, and other documents.
When you choose to make your application unique. Some employers may not demand it, but adding a video CV may personalize your application and make it stand out from the crowd. Recruiters may form opinions of you after seeing your profile, listening to your voice, and witnessing you show your abilities.
If you want to know more about video resume, check out our guide on what are the steps to make an impressive video resume.
Why should you make a TikTok video resume?
Video resumes are not for every job position or industry. The majority of job applicants do not require one.
Yes, video resumes are not necessary for the vast majority of available positions.
The sector, position, and business for which you are applying determine the need for one.
A video CV may help you in getting noticed in a challenging employment market. In a world where attention durations are shortening, video is the ideal medium for conveying your information quickly and efficiently.
According to research, images are processed 60,000 times quicker than text, so a video resume will convey your concept quickly and may spark the curiosity of an employer who has been sifting through traditional resumes all day. Therefore, a video CV is more apt to create an imprint.
If you work in a creative sector, especially one focused on design and visual graphics, and you have a bonus to produce a video CV. By giving prospective recruiters a video resume you've created, you're not just providing them with your CV but also a bit of your creativity that they can employ to assess your skill.
So, why should you create a video resume?
If you have a position that demands demonstrating your character and interpersonal abilities. For example, a client-facing job entails captivating potential clients.
Your recruiter has requested that you establish one.
You're looking for a job at a small business that doesn't utilize an applicant tracking system (ATS) and hasn't computerized the recruiting process.
You have years of job experience and aim to focus only on the details relevant to the job role.
Although, if your position does not need many visuals, a video CV may not be necessary. Also, remember that a video resume is easy to miscalculate—that is, there is a significant possibility of the screenplay, production style, or venue being unsuitable.
A sloppy or unsuitable video CV might jeopardize your prospects of obtaining an interview. In the worst-case situation, a poorly designed and produced video resume might exclude you from candidacy.
Check out our guide on visume/video resume, video resume/ TikTok resume: Make it or not?
How to make a TikTok video resume
Preparing a video CV is not the same as constructing a resume or writing a cover letter. It necessitates stage setup as well as technical abilities like visual storytelling and production. The following are the procedures to creating a video resume;
Make a strategy for how you expect the clip to appear in this initial stage. Determine if you'd like to only talk in front of the camera or whether you prefer to include motion shots of you showing abilities. If you add an activity, write down every phase of the clip so you can comprehend its timeline. It will allow you to polish what you'd like to say and structure things correctly.
You may plan what you'd like to communicate about how the video should appear. Try making bullet points of our talents, accomplishments, and credentials you choose to showcase if you prefer to appear more conversational instead of scripted. If you aim to look more organized and professional, jot down simply what you have to convey. Consider utilizing strong action verbs similar to those found in a typical resume while drafting your pitch to boost the significance of your statements.
Example: Hello, Interviewers. My name is Sarah! I spotted your job posting for a Business Marketing Manager on an online job portal. I completed my MBA in Marketing from Northwestern University and am proficient in Spanish and English and scored an 8.5 on the IELTS test.
Set up a filming location.
If you have pictures of you seated and interacting straight to the camera, arrange a location with uniform background and beautiful lighting. You may add accessories that appear appropriate in the context and do not divert attention from yourself. If you intend to incorporate action shots, make sure the relevant objects and equipment are accessible. You may also minimize the number of individuals in the background.
Arrange a recording camera
Select a video camera capable of capturing high-quality photos and sound, such as a cellphone, iPad, computer, or camera. The video camera must guarantee that your appearance, other visuals, and your words are apparent. Put the recording equipment to catch your face and shoulders but farther away to include your entire profile. If you're adding motion footage in your video, make sure the camera gets you fully.
Consider recording many shots.
Create each part of your video resume following your narrative or blueprint. Capture your video many times with varied expressions and speech levels to verify you look relaxed, interested, and professional throughout the video. If you're standing still and talking, consider breaking up your talk into smaller bits so you may continue or construct something new.
This phase will assist you in selecting the ideal takes and can speed up the editorial procedure.
When capturing motion, you can film an extended section of repetitive movements without stopping and restarting. This stage enables you to use only a portion of your activity video, and it may also let the activity appear more spontaneous instead of scripted.
Based on the topic of your video CV, you may want to include educational graphics, illustrations, pictures, or articles. Try gathering all of the resources you may choose to incorporate regarding the video you filmed before or early in the trimming stage. Those components can give more material in a fluid and compelling way.
Examine all of the videos you've collected and choose the best takes. You may start editing and arranging videos to match the scenario you produced using your text or plan. You may also include additional images, like mentions to accomplishments or accolades, beneath the audio of you talking to graphically show what you're saying.
To put the movie together, you may employ creating tools or an application that lets you trim, organize, and save recordings. Most PCs, tablets, and handsets also have video editing software.
Check your finished cut a couple of times to verify it's clean and well-organized. You may also have a friend, colleague, or mentor go through your video CV. They can offer helpful criticism to assist you in enhancing your film and create a major impact.
We have compiled a guide on what are the things to consider when making a tiktok video resume.
Example of a Tiktok Video Resume Script
You may utilize the video cv content example below to assist you in designing your own.
Hello, Bravura Corporation.
My name is Carol W. Cannon, and I'd like to be your social media expert. Because Bravura Corp is fresh to social networks, I would like to use my expertise in digital community participation to assist your firm in becoming more connected in the activities of its consumers.
In my leisure time, I manage the social media profiles for a documentary podcast with a colleague. I utilize the statistics on the networks to identify when the listeners are usually active on the social networks, and I plan posts to appear at the optimal period each week and when the latest episode is released.
I performed monthly polls to ask listeners which podcast episodes they loved the best and if they have any requests or suggestions regarding the podcast. Also, I developed a digital online book event focused on this documentary podcast as a fun side gig. The podcast's social network participation, and hence its listening audience, increased by 20%.
This expertise has qualified me to improve Bravura Corporation's web presence and establish a good client community.
Yours Sincerely,
Carol W. Cannon
Advantages of Creating TikTok Video Resume
Unique - Video resumes are one-of-a-kind. When a hiring manager comes across a video in his stack of applications, his interest is peaked, and they will want to have a glimpse of it. Catching their attention is the initial stage. You've undoubtedly met that goal with a video resume.
Accessible - Your character, abilities, and accomplishments are readily apparent. Video resumes can show you confidently talking into the camera or a collection of all your past work. Everything you do, your personality, and your abilities are noticeable from the outset. If you are applying for an artistic position with a video CV highlighting all of your unique achievements, the employer will have a better understanding of what you can offer to the business.
Flexibility — It's similar to your original interview but with greater leeway. In reality, a video résumé is simply you addressing all of the traditional interview questions. However, because it is a structured setting, you may look unfazed and secure, and you will come off as well qualified for the position.
Create your resume in minutes for FREE.
Use resume templates that are tested and proven to fit the rules employers are looking for.
Create resume now