What are the steps to make an impressive video resume
Video resumes are visual displays of your character intended to supplement instead of replacing a printed resume. According to research, 59 percent of CEOs like watching a video than just reviewing the document. As remote recruitment and the remote job became more common, employers are rapidly moving to remote-employment platforms and video to find and evaluate candidates for available job positions.
Nowadays, video resumes are the most effective technique in your job search toolbox. A well-crafted video CV is like a thousand words and may enable you to distinguish yourself from the crowd and catch the employer's attention.
Steps to making an impressive video resume
Create an impressive script
First, jot down what you'd like to include in your video CV. To make your video CV stand out, consider what you want to accomplish (for instance, I prefer employers with senior financial jobs to approach me) and keep in mind that everything you provide is fully concentrated on that goal. Your video resume must include four core aspects.
A summary of your experiences - Summarize your previous experience. Begin with an outline, then highlight your most recent job in 1–2 lines. For instance, "Hello, my name is Jane Williams, and I am a qualified accountant with eight years of financial management experience in the insurance sector." I am currently working as a Financial Analyst at Fedora Consulting Services, and I have the following responsibilities and my accomplishments include.
Define the main competencies you can bring to the job position. For instance, I am knowledgeable in financial reporting, analytical know-how, etc.
A snapshot of your soft talents and accomplishments - Describe your soft skills and how they have helped you succeed in your job. For example, "I am a credible corporate finance specialist who works thoroughly with cross-functional groups in my corporation to attain corporate objectives."
What type of job you want - State your professional goals and the types of positions and organizations you'd wish to join. If you're only utilizing a video résumé to supplement your social presence, you may ignore this section. For instance, as the following step, I'd like to look at senior financial positions that include supervising teams across several countries. After you've finished the first iteration of your video resume story, read it aloud to determine if your tone and words make it appear as though you're speaking. It is essential in an excellent video CV to show that you are conversing with an employer instead of reading from a script. If your screenplay seems too scripted,' modify your phrases to make them sound more genuine. Make sure the video resume should be no more than 1-2 minutes long. Ensuring this keeps employers' attention and the constraint of making it brief will also guarantee that you concentrate purely on the essential aspects and keep your material as relevant as feasible.
Select the appropriate tool
If you may film your video resume on any platform, it is better to use a video editing tool like an online video editor designed to assist you in quickly producing and sharing video resumes. Examine the factors while selecting technology for your video resume;
It will be tough to recall your storyline and present it correctly as a video résumé unless you are a trained actor. If you try to memorize your script, you could wind up appearing pressured and robotic while presenting it on video. Lastly, if you have to look at notes while speaking, you will have to continue to look away from the recorder, resulting in a less-than-impressive presentation. As a result, you should utilize a video resume application that enables you to paste in your screenplay and watch it using a teleprompter while filming your video.
As video files are large, so share your video resume through a video URL or QR barcode. QR codes are ideal for traditional resumes since they allow companies to see your portfolio by scanning them. It is essential to give video hyperlinks for web platforms or profiles so that employers may quickly click and view your CV.
Make a setting for recording your video
Once you've found the proper application and completed your script, it's time to start filming your video resume! Consider the essential factors in mind when building your setup to capture your resume;
Select a simple backdrop. - The concentration of attention in your video CV should be on you. Capture your video next to a simple wall or setting to eliminate graphical interruptions.
Examine your camera's viewpoint and lighting - Visual effect is highly crucial in your video CV. When recording your résumé, place a light in front of you to make a big impression. It will make you appear more vibrant and lively in your video. Configure your camera's range and position such that your shoulder and the top of your arms are viewable in your movie so that you may move organically if necessary. To achieve the natural perspective, try positioning your camera a little above your head and tilted a bit downwards.
Examine your instruments. - To get a clear video, clear your device's lens. If you're utilizing online applications, be sure you have excellent internet access. Whenever you begin filming, keep in mind your camera is fully powered and linked.
Pick a location with less background sound. To prevent auditory disturbances, film your video resume in an environment with little noise.
Look presentable in your video resume
Dress for your video CV as if you are going for your work. You can be semi-casual for your video shooting because being overly professional may make you appear edgy. If you work in a field where informal attire is the standard, you can record your video resume accordingly. Avoid wearing patterns or stripes and instead opt for a plain color that contrasts with your environment. For instance, if you are filming a video resume against a white background, skip wearing white clothing instead wear a blue or black t-shirt.
Maintain appropriate body language
The goal of a video CV is to convey your characteristics to an employer. Take it easy, enjoy while filming, and remember to smile! It might make you appear more accessible and assured. Also, while you talk, try leaning forward towards the video recorder and resist the desire to cross your hands to be more reachable.
Practice recording video resume
Many people believe that to excel in things such as creating video resumes, you must be outgoing. It is not the case. Developing an effective video CV is only a talent. Try filming your video and showing variations to a colleague until you are happy to submit the final edition of your video resume.
Post your video resume on social media profiles and platforms
Once you've completed your video résumé, decide which networks you'd want to upload it on. Placing your video resume URL as a prominent feature on your LinkedIn account may be an excellent method to get the attention of prospective employers who spend many hours per day scanning LinkedIn pages for vacant positions. You may also add a video resume link and QR code to your resume so that hiring managers can check it both online and offline.
Advantages of Video Resume
In today's evolving technological employment market, a video CV might give you several significant benefits;
Allow businesses to see the actual you.
A standard resume can only emphasize what you have accomplished in your career until now. But a video resume can convey this expertise to life by providing hiring managers with a far greater understanding of your character and perspective.
Help to prove your soft talents.
If your work necessitates excellent communication or presentation abilities, a video resume may help a lot by allowing you to exhibit them. And convince recruiters why you have an advantage over other applicants.
Assist you in making a positive impression on an employer.
In contrast to text, graphic data is provided roughly 60,000 times quicker in the human brain. In addition, individuals recall up to 95 percent of information delivered visually, contrary to only 10 percent conveyed in text style. Therefore, video resumes are an excellent approach to communicate vital information regarding your professional background to a hiring manager.
If you want to know more about video resume then check our guide on how to make a tiktok video resume.
When to Avoid Video Resumes?
As exciting as it may be to create your video resume, there are occasions when it is simply not suitable.
No degree of fade-ins, dramatic music, or fancy graphics will erase the fact that you are unqualified for the role. Being somewhat less qualified is one matter, but failing to understand even the most fundamental aspects of the job requirements is quite another.
It is better to skip including a video resume if it is of no significance to your job application. It is a waste of effort to devote a lot of time to something that will not assist you in getting the job. You would be better off narrowing your employment search and tailoring your resume and cover letter.
Reason Why Few Companies Prefer Video Resumes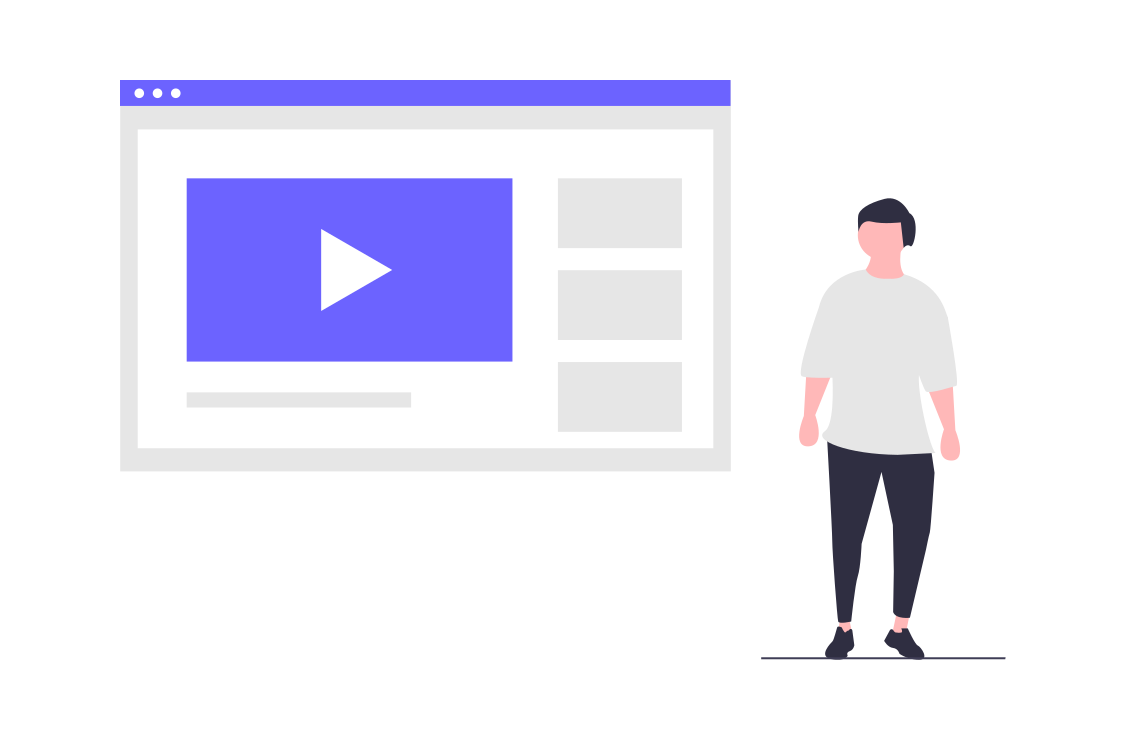 From the perspective of the business, a video resume is like a standard paper or web CV that may allow job seekers to show themselves in the best possible way. Also, the hiring managers may perceive video resumes as a rapid way to screen out prospects. Employers may observe, engage, understand, and make decisions based on what a candidate presents on a video resume.
Here is our another resource on video resume, video resume/ TikTok resume: Make it or not?
Tips and Suggestions to Make a Video Resume
Here are a few pointers while preparing and constructing your video resume;
Concentrate on single expertise or talent - As your video CV will be so brief, it is best to emphasize a particular matter. You can explain about a specific task you excelled at or showcase a talent, like website programming. Enhance your resume and cover letter by mentioning an aspect only present in one of those papers.
Address a topic not covered in your job application - If you missed something in your CV or cover letter, like volunteer work or a specialized talent, try showcasing it in your video resume. Maybe discussing a pastime or an interest, and demonstrate how your interests relate to the role, business, or sector, or how the abilities you gained via your hobby assist you in connecting to the job, firm, or field to which you are applying.
Dress formally - Consider appearing as though you're going for an interview. Choose tidy, work-setting apparel, like business attire. You may even try dressing as if you were going to work. Select colors that suit the environment or location of your film to guarantee that you and your talk stay the center of the video resume.
Examine the company's policies - If a business requests a video resume, make sure you obey any guidelines they offer regarding material, duration, editing, and submission. Few companies may want that you follow a yardstick while creating your video resume, so ensure that you meet their requirements appropriately in your video.
We have some useful tips and suggestions in our video resume guide on what are the things to consider when making tiktok video resume.
Video Resume Software Applications
You may make your video CV or get a pro to do it for you. Many employment sites let you include a video résumé in your profile. Here are top applications for creating a video résumé;
Renderforest is an excellent application for creating video resumes for many professions like a visual artist, group worker CV, event organizer, content writer, digital marketer, and freelance designer.
Movavi Video Suite has a screen recorder application appropriate for creating a video résumé for employment. If you enable the camera feature, it will display a video of you speaking in a small window in the screencast's corner. You can employ it to capture your work resume account, similar to the LinkedIn profile.
Biteable video resume creator enables you to produce a resume video in a short amount of time. The initial stage is to sign up for a Biteable account. The following step is to choose a video resume template. After you've chosen a framework, you can begin customizing it by altering the content and incorporating your logo. They also provide animated graphic images that you may use for free in your film.
Animaker has a range of resume templates available to assist you in making a unique resume video. The template includes text placeholders for your name, an introduction sentence, qualifications, job experience, accomplishments, and particular talents. You may use animation effects from the free collection, submit your own image/artwork, and add sound effects to your video resume.
Conclusion
Preparing a video CV is a state-of-the-art method of finding work. It demonstrates that you are a progressive thinker who understands innovation and is current or ahead of the latest developments. A video CV may not be suitable for everybody or in every scenario. But in some cases, it may enable a recruiter to identify you and why you're an ideal candidate for the position.
Create your resume in minutes for FREE.
Use resume templates that are tested and proven to fit the rules employers are looking for.
Create resume now